In questa guida mostreremo come è possibile trasferie musica, video, foto e altri files tra iPhone, PC e iTunes con ImTOO iPhone Transfer.
Innanzitutto scarica e installa il programma e assicurati di avere iTunes 7.4 (o superiore) installato sul tuo computer.
Poi collega il tuo iPhone al PC via USB. Il software automaticamente rileverà l'iPhone e mostra tutte le informazioni nella finestra.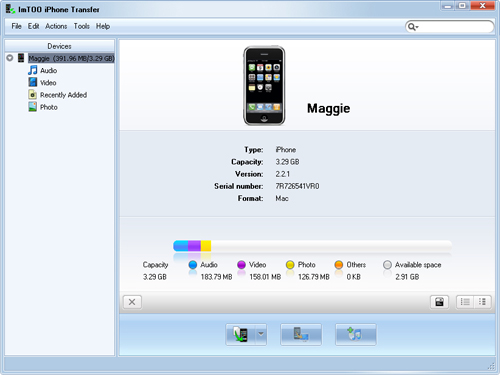 Ecco cosa può fare ImTOO iPhone Transfer:
Trasferire musica/video/foto da PC a iPhone
Crea Backup e copia files da iPhone sul PC
Trasferisce files da iPhone a iTunes library
Modifca iPhone playlist
Altre Funzionalità
Trasferire musica/video/foto da PC a iPhone
Cerca la cartella/playlist in cui vuoi trasferire i files.
Clicca "Add files to iPhone" e scegli "Add Files to List" per poi selezionare i files da trasferire su iPhone.
NB: Se vuoi trasferire un'intera cartella clicca su "Add files to iPhone" e scegli l'opzione "Add Folder to List" e infine decidi la cartella in cui trasferire i files su iPhone.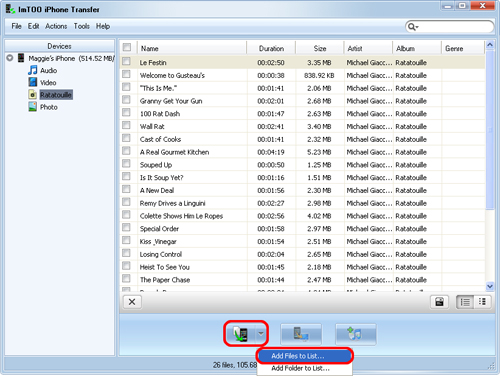 Copiare files da iPhone a PC
Seleziona i files da copiare su PC.
Cliicca "Export checked files to local" per selezionare la cartella del PC in cui copiare i file del tuo iPhone.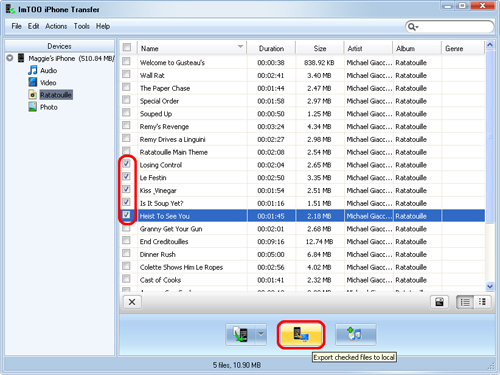 Trasferire files da iPhone su iTunes library
Seleziona i file(s) da trasferire nella lista.
Clicca su "Add checked files to iTunes library" per far partire il trasferimento verso iTunes.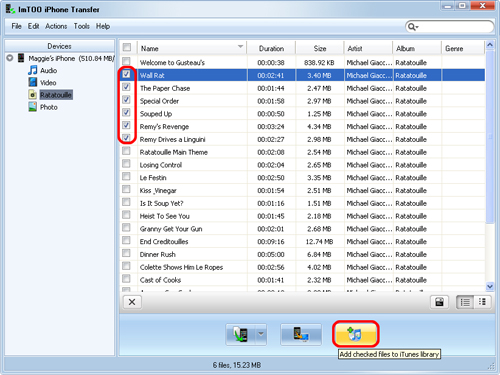 Modifcare iPhone playlist
Creare una nuova playlist
Scegli "File > Playlist" e clicca su "New Playlist". Infine col tasto destro del mouse rinominala.
Trascinamento files
Puoi aggiungere file alla playlist semplicemente selezionando e trascinando files su iPhone.
Altre Funzionalità
Salvare e ricercare i files in due modi
Clicca sul bottone "Quickly browse your iPhone library" per ricercare i files per genere, artista, e album dal pop-up.


Clicca "Quick search of item, artist, e album" inserisci il "Name" per ricercare ciò che desideri.

Visualizzare i files in due modi
Clicca "View in List" per vedere i files in modalità lista.

Clicca "View in Illustration" per vedere invece le anteprime.



Aprire iPhone con Explorer
Clicca "File > Open with Windows Explorer", per poter gestire il tuo iPhone come un hard disk portatile.